| | | |
| --- | --- | --- |
| Seaforth Gardens weeds | | |
Written by County Councillor Eber A Kington
Thursday, 08 August 2013 20:03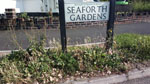 As you know I have been trying since May to ensure that the contractors who undertook the footway replacement work in Seaforth Gardens return to complete the weed and hardcore clearance and the renewal of the grass verges. I understand that during this time Epsom and Ewell Borough Council, which cuts the verges on behalf of SCC, informed Surrey Highways that they would not be undertaking any work in Seaforth Gardens until the verges were reinstated.
Following a series reminders and unfulfilled promises I was informed in late June that the contactor had been told to undertake the following tasks:
Contractor is to remove material that has been left to form unsatisfactory verges (hardcore mixed in with old soil) in all locations where seeding attempts have failed. 4'' depth as a minimum to be removed.
Weed kill treatment throughout.
Verges to be topped with uncontaminated material - new top soil then lightly compacted.
Verges to be racked, seeded  and watered.
On my return from holiday on 31 July I again emailed SCC and was contacted by the contractors themselves who sent the following message:
Dear Councillor Kington
We have scheduled the remedial work to carry out the re-soiling and seeding for next Wednesday (allowing for weather) and are sorry for any inconvenience this has caused.
I expect that until you see the contractors on site and work being done you will remain somewhat sceptical, but I think it looks as though a resolution to the problem is near.
Please feel free to share this information with your neighbours.
With all good wishes
County Councillor Eber A Kington
Residents' Association
Ewell Court, Auriol and Cuddington
This e-mail address is being protected from spambots. You need JavaScript enabled to view it
020 8786 9271
| | | |
| --- | --- | --- |
| Good Queen Bess | | |

Written by David Brooks

Thursday, 08 August 2013 20:02

Saturday 14 September 1pm-2.30pm

The royal progress of Queen Elizabeth I will halt at one of the Queen's favourite palaces, Nonsuch, in Ewell and allow local citizens to join the Queen's court.

Meet the Virgin Queen in all her splendour and listen as she tells the story of her life and the news of court.

See how she was a leader of fashion and how she influenced the clothes of her courtiers.

Learn courtly etiquette to ensure that you don't displease her and get sent to The Tower. Practise your newfound skills as you are presented to the Queen herself.

Price £4 per child.

Further details available from David Brooks, Bourne Hall Museum, Spring Street, Ewell, Surrey, KT17 1UF.

Tel 020 8394 1734.

Email This e-mail address is being protected from spambots. You need JavaScript enabled to view it

www.epsomandewellhistoryexplorer.org.uk/BourneHallMuseumClub.html

| | | |
| --- | --- | --- |
| Residents' Association Electoral Success | | |

Friday, 03 May 2013 22:36

Congratulations to Eber Kington and John Beckett, who were today returned as County Councillors for our area. The full results are as follows:

EWELL COURT, AURIOL AND CUDDINGTON

| | | | |
| --- | --- | --- | --- |
| Eber Alan Kington | Residents Associations of Epsom and Ewell | 2,233 | 64% |
| Roger Kemp | UKIP | 624 | 18% |
| Carole Edwards | Conservative | 310 | 9% |
| Colin Luxton | Labour | 206 | 6% |
| Rusmat Roland Arthur Ahmed | Liberal Democrats | 90 | 3% |

EWELL

| | | | |
| --- | --- | --- | --- |
| John Beckett | Residents Associations of Epsom and Ewell | 2,065 | 63% |
| David John Hunt | UKIP | 539 | 16% |
| Alison Jane Chatterton | Conservative | 359 | 11% |
| Rosemary Janette Taylor | Labour | 148 | 5% |
| Jim Dapre | Liberal Democrats | 84 | 3% |
| Donna Maya O'Brien | The Green Party | 76 | 2% |

Stoneleigh and Auriol Residents' Association would like to express a huge thank you to everyone who worked so hard to acheive this fantastic result and to those who voted for Eber and John.

| | | |
| --- | --- | --- |
| Round the Borough Walk - 7 September | | |

Monday, 05 August 2013 13:28

The Round the Borough Walk is a long distance route that joins up the beautiful open spaces in Epsom and Ewell including Epsom Downs, Epsom Common, Nonsuch Park, the Hogsmill and Horton Country Park.

The walk aims to inspire local people to get active and challenge themselves to achieve a milestone. It also encourages the local community to get out and about and see the Borough's plentiful and stunning open spaces.

After the success of the 2012 walk local residents are again being challenged to walk the full 20 mile route in one day. Participants are encouraged to raise money for one of the mayor's charities or for a charity of their own through websites such as justgiving.com. Last year walkers raised over £3,000!

Round the Borough walk 2013 is taking place on Saturday 7 September. Walkers will set off from Horton Country Park car park between 8.30am - 9.30am. The walk is estimated to take between six and nine hours to walk the full route, depending on length and frequency of breaks.

If you fancy setting yourself a challenge and raising some money for your favorite charity, then you can register here for the Round the Borough Walk 2013.

For more information about the walk, please visit the Round the Borough Walk page on the Epsom and Ewell Borough Council website.

| | | |
| --- | --- | --- |
| Let your hair down at the Longmead Centre | | |

Thursday, 07 March 2013 20:17

The Longmead Centre is a spacious and modern building which welcomes people who are 55 and over and looking for an exciting programme of social and recreational events. Also on offer is a range of classes designed to promote health and wellbeing. The Centre is open five days a week, Monday to Friday from 9am-4pm.

A coffee shop is set in its comfortable dining area where visitors can relax over a coffee and enjoy freshly baked cakes and savouries. This is the focal point of the Centre where people can catch up with friends and check out the regular events and activities.

The centre has an attractive restaurant style dining room offering a wide range of freshly prepared meals and snacks to enjoy at very competitive prices.

Visiting on a Monday offers the additional benefit of being able to seek advice from Citizens Advice Bureau volunteers.

For more details, please visit the Longmead Centre page on the council's website.
«
Start
Prev
1
2
3
4
5
6
7
8
9
10
Next
End
»
Page 6 of 13