| | | |
| --- | --- | --- |
| Helping people switch to digital TV | | |
Written by Samantha Page
Sunday, 11 September 2011 20:45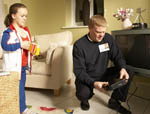 As you may be aware, the traditional signal in the London TV Region is being switched in April 2012.
4 April 2012 – BBC2 analogue is switched off
18 April 2012 – Remaining analogue channels are switched off
The Switchover Help Scheme is run by the BBC and provides older and disabled people with practical help to switch one TV to digital.
The Help Scheme can help everyone who
Is aged 75 or over, or
Has lived in a care home for six months or more
or gets (or could get):
Disability Living allowance (DLA) or
Attendance or Constant Attendance Allowance, or
Mobility Supplement
or
Is registered blind or partially sighted.
What does the Help Scheme provide?
Easy-to-use equipment.
An approved installer to supply and install the equipment.
A 12-month aftercare service including a free helpline.
There is an all-inclusive cost of £40 for the standard option or for eligible people on pension credit, income support, income-related employment and support allowance or income-based jobseeker's allowance, it's free.
How we can work together?
Although we write individually to all eligible people about the Switchover Help Scheme, we also know people often need to hear about things from more than one place before they take action. Others may not fully understand the impact of switchover, including how the switchover will affect their ability to watch TV.
We are keen to raise awareness among local communities and are working with trusted organisations to make sure that no one is left with a blank screen at switchover.
We can provide (all free of charge):
Help Scheme awareness training for your organisation and employees.
Tailored Help Scheme training for any of your employees and volunteers who go into people's homes to deliver your service or for anyone who would like to "champion" the Help Scheme in your organisation.
Help Scheme literature and material for you to distribute to your employees and service users. Information is provided in different formats on request; such as Braille, large print, audio CD, BSL DVD, easy read, story board and in ten different languages.
Organise local Help Scheme events, or attend as a speaker at events you may already have planned or are planning.
Provide editorial for inclusion in any of your newsletters, websites and other publications.
Help you work on and support a programme or activity aimed at increasing awareness of the switchover to digital TV for your organisation and service users.
If you want to get involved please contact Aydeé Burke, Regional Project Coordinator on This e-mail address is being protected from spambots. You need JavaScript enabled to view it or 07949877327.
For more information visit helpscheme.co.uk.
For general impartial advice about switchover please visit digitaluk.co.uk or call 08456 50 50 50.