| | | |
| --- | --- | --- |
| Road repair hit list | | |
Written by County Councillor Eber Kington
Wednesday, 10 October 2012 16:20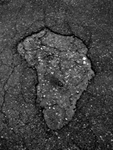 Surrey County Council are asking residents to help draw up a road repair hit list as part of a blitz on Surrey's worst roads.
The county council will use residents' suggestions to help create a list of streets most in need of repair. These will then be overhauled as part of a five-year blitz on tackling the root cause of potholes.
The busiest roads have already been fixed, and the Transport and Enivronment department now believe that 90% of Surrey's roads are in a decent condition. They are now looking at improving the remaining 10%, many of which will be smaller residential streets or country roads. Surrey County Council would like residents to help draw up a hit list of roads to prioritise for resurfacing.
The council's new approach involves planning road maintenance over five years, instead of the usual 12 months. This will provide better value for money because materials can be bought in bulk, meaning more roads can be improved for less money.
People will be able to nominate roads for repair and give their views at a series of roadshows being held in the coming weeks. To give your views, the roadshow hits Epsom and Ewell on Sunday 28 October at the Market Place, Epsom from 11am to 4pm. If you cannot attend, you can email your suggestion to This e-mail address is being protected from spambots. You need JavaScript enabled to view it .
For more information, visit Surrey County Council's highway information page or call 0300 200 1003.
| | | |
| --- | --- | --- |
| A240 Traffic Congestion | | |

Written by County Councillor Eber Kington

Thursday, 27 September 2012 22:33

Following quite a few complaints from residents, I contacted Surrey Highways requesting a statement on their decision to upgrade the traffic lights at the A240/London Road traffic lights whilst the Beggars Hill/Kingston Road was closed and traffic diverted along the A240 – causing congestion and delays in recent days. I have been telephoning Surrey Highways since Monday, but the telephones of the relevant highway officers repeatedly went to answerphone and my requests for a return call were not answered.  I only managed to speak to the officers this morning (Thursday) at which point I requested the written statement reproduced below.

I am not happy that Surrey Highways assumed that Sutton and East Surrey Water would complete the works in Beggars Hill/Kingston Road to time, and that the go-ahead was given for the traffic lights to be replaced without checking with the Water Company first. It is matter I will be taking up with the NE Area Highways Manager.

Read more...

| | | |
| --- | --- | --- |
| Organ and Dragon update | | |

Sunday, 09 September 2012 21:21

Your Residents' Association continues to press for more information about the future of the Organ and Dragon site. The following letter has been written by Natalie Rogers to the representatives of KFC, who recently purchased the pub. Natalie has since received a response.

---

Dear Mr Onions

The Organ and Dragon Public House, London Road, KT17 2BL

As a local resident of the Epsom and Ewell area and the Chairman of the Stoneleigh and Auriol Residents' Association (SARA), I was saddened to read about the closure of the Organ and Dragon.

I understand from Councillor Teasdale, who is one of the elected Residents' Association councillors for Stoneleigh and Auriol, that Pegasus Planning Group has recently purchased the site on behalf of KFC. Unfortunately I was unable to attend the meeting at Bourne Hall on August 22 2012 but I have been contacted by a number of residents expressing concerns about different aspects of the plans and proposals. I have set these out below and would be grateful for a response at your earliest convenience.

Read more...

| | | |
| --- | --- | --- |
| KFC Organ and Dragon letter | | |

Sunday, 16 September 2012 20:25

Natalie Rogers, Chairman of Stoneleigh Residents' Association has received a response to her letter to Pegasus Planning about the plans for the site of the Organ and Dragon pub. Here is the letter from Pegasus Planning in full.

---

Dear Mrs Rogers

Organ and Dragon Public House, London Road. Ewell

I refer to your letter dated 9 September 2012.

I aim to respond to the bullet points made under the two headings Consultation and Proposal/Planning Application. This is set out below.

 

Read more...

| | | |
| --- | --- | --- |
| Here comes the Sun | | |

Thursday, 31 May 2012 21:37

The Stoneleigh Fun Day on Sunday 27 May was a glorious success. More than 2,000 people flocked to Stoneleigh Broadway to join in the fun. We have created a montage of photographs taken by Mike Sampson of the day.

Read more...
«
Start
Prev
1
2
3
4
5
6
7
8
9
10
Next
End
»
Page 9 of 13